Computer instruction is offered to older adults who want to learn how to use the computer to further enhance their everyday lives, be more informed and explore news in the information age. Our computer learning center was launched in 1996 with the intent of teaching computer basic usage to adults who were just entering the technology world. Now we are focused on "keeping up" with changes and challenges of advancing technology and tools.
ShepNet Computer Center is coordinated by volunteers who know and enjoy technology. Instructors teach classes ranging from very basic to advanced with a coach stationed between every two students for an individualized and supportive learning environment. Topics include Windows 7 and 8.1, Photo Editing, Family Tree, Basic Usage, plus seminars on security issues. In 2014 we added smart phone and iPad classes. Some classes fill quickly and it is estimated that more than 4000 registrants have completed a ShepNet course! That's a lot of older adults keeping up with technology.
*Our new classrooms are being relocated during June & July. We will relocate to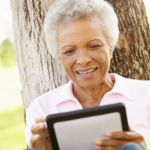 Starmount Presbyterian Church and classes should begin again in August. 
Check our website frequently for new class postings or go to the ShepNet web page to sign up for computer class emails (click here).